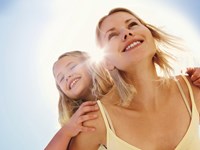 Our Chiropractors

Angela Zahra
Angela is the principal Chiropractor at Healthlink and runs the practice together with her husband Rob. Angela graduated from Macquarie University in the year 2000 and has been practicing at Healthlink since. She has a passion for paediatric and childhood chiropractic but also enjoys working with people at all stages of life. She feels empowered knowing she has helped many families in Penrith.
---

David Han
From a young age, David has been playing competitive football (soccer) so health and fitness have become second nature to him and he continues to impart these experiences in clinical practice. As a result of various sport-related injuries, he spent a lot of time with sports physiotherapists and eventually chiropractors. It was the wholistic approach of the chiropractor that sparked his interest in Chiropractic. Since graduating from Macquarie University David has utilised manual techniques, soft tissue techniques, dry needling and rehab to improve areas of weakness. He has a particular interest in headaches, neck and back pain, sports-related injuries and postural correction.

Book An Appointment With David
---

Sabina Leung
Sabina graduated from Macquarie University in the year 2000 and was practicing in her own clinic in Cairns, QLD until moving back to Sydney in 2009. The techniques Sabina provides range from manual chiropractic adjustments to low force techniques. She is passionate about the benefits to health that can be achieved with Chiropractic Care and is committed to helping every body from the elderly to the very young.
---

Tristan Foo
Tristan is a Macquarie University graduate who has a strong desire to help our community manage pain, achieve the best from their bodies and empower them to look after themselves. With an elite level sporting background including competing at an International level of sport himself, he understands the requirements of being an elite athlete. Through personal experience Tristan has found great benefits in chiropractic treatments, especially following his own back injury, and from there he wanted to be able to provide people with that same care that has been so important and beneficial for his own health and wellness. Tristan uses a mixture of diversified manual adjusting, ART, drop piece, activator, dry needling, soft tissue and rehabilitative exercise programs. His expertise extends to working with: - Australian National and Under 20 Ice Hockey Teams in Iceland 2019 - Ice Dogs AIHL Hockey Team 2018 - Manly Warringah Prem AFL Team 2017 - Tasmanian Men's and Mixed Netball Team 2018 Nationals
- NSW Indoor Cricket Junior Team 2019 Nationals
Book An Appointment With Tristan

Daniel Choi
Daniel graduated from Macquarie University with a Bachelor of Chiropractic Science and a Master of Chiropractic. Daniel is also a qualified sports trainer and continues to do additional studies in the human body to enhance his knowledge and help the patients.
From a young age, Daniel has been involved in a variety of sports. He participated in competitive Basketball, shot put and discus throw. Throughout the injuries from sports, Daniel received chiropractic care, and his perception of chiropractic changed, which made him believe in chiropractic care.
Daniel looks for the source of the pain as he understands the importance of a true cause of the pain. He informs the importance of education and rehabilitation exercises to the patients as he believes it can reduce the number of re-injuries and symptoms.
The treatment includes manual adjustment, drop table, prescribing rehabilitation exercise, taping, activator, soft tissue works to ensure all patients ensure the best benefit.
Book An Appointment With Daniel